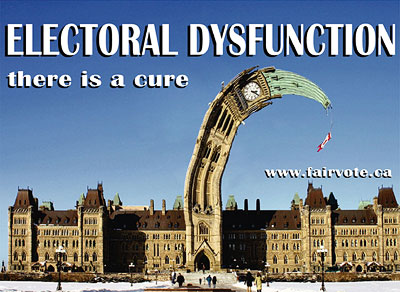 Millions of Canadians suffer from electoral dysfunction, a serious condition when untreated. You probably know the symptoms. You cast your vote in every election, but frequently you fail. Your vote elects no one.
But there is a cure!
Fair Vote Canada has released a two-minute video at www.fairvote.ca starring Don Ferguson of CBC-TV's Royal Canadian Air Farce and directed by videographer Henry Sansom. With the help of a skeleton, a garden claw, a handy chart and a very memorable photo of the Peace Tower, "Doctor" Ferguson explains how a "good dose of proportional representation" will solve the problem.
Fair Vote Canada is a multi-partisan citizens' campaign promoting the adoption of a more proportional voting system. FVC promotes the use of a citizen-driven electoral reform process allowing voters to choose the best system through a binding national referendum.
Web visitors are encouraged to sign our petition, which is also being endorsed by a growing list of prominent Canadians from a wide variety of backgrounds and political viewpoints.